Contemporary Romance
By: Debbie Macomber
Narrated by: Sandra Burr
♥♥♥♥
Warm
11 hrs
Cedar Cove, Book 2
Sample
Dear Listener, If you've been to Cedar Cove before, we've probably met. You can usually find me either at home or at the public library, where I work. I've lived in this town all my life and raised two daughters here. But my husband and I - well, about six months ago, he disappeared. Just...disappeared. Where's Dan? Why did he go? Who's he with? Will I ever find out?My hometown, my family and friends, bring me comfort during this difficult time. Comfort and a sense of shelter. I'm continually reminded that life can and does go on. For instance, everyone's been discussing weddings and babies lately. Justine - the only daughter of my best friend, Olivia Lockhart - impulsively got married a little while ago. My own daughter Kelly recently had a baby. Unfortunately, she refuses to accept that Dan might not return to see his first grandchild. My older daughter, Maryellen, is more realistic. I think she's seeing a new man, but for some reason she won't tell me who it is. Then there's Jack, who's been pursuing a romance with Olivia, and his son, Eric, and Eric's girlfriend, Shelly (I think she's pregnant), and Zach and Rosemary Cox, whose marriage is reputedly on the skids and...Well, just come on over and we'll talk. --Grace Sherman, 204 Rosewood Lane, Cedar Cove, Washington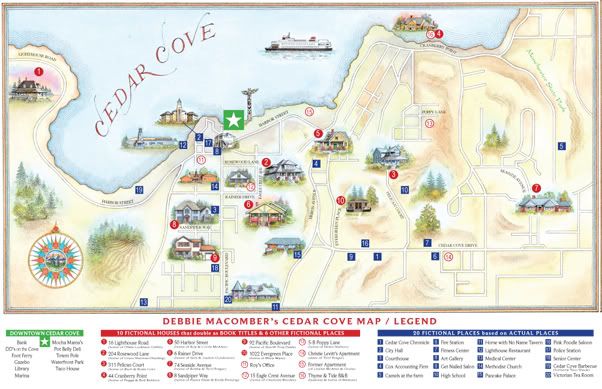 Guest review by:
Iisa Chance
The above map was taken from Debbie Macomber's website but it can be seen better at:

Don't study the red legend too carefully, there are spoilers there. In fact, maybe I should just tell you a few locations critical to the story. ➀ is Olivia Lockhart's house. ➁ is Grace Sherman's house. ➂ is the home of Zack and Rosie Cox, and ➃ is the bed and breakfast/home of Peggy and Bob Beldon. If you just click on the pic instead of the hyperlink, it should take you to a larger pic where the legend is still too blurry to read.
This is a review of the audio version of this book. The narrator, Sandra Burr, again does a wonderful job of bringing Ms. Macomber's characters of Cedar Cove to life in this second book of the series. Sometimes it is difficult for a female to do the male voices, but Ms. Burr is great, putting a different inflection on each voice in a nice way and adding a touch of subtle humorous tone in the appropriate scenes.
There are various storylines in the book and a few of them are unresolved at the end; it is a small-town-life-romance-chick-lit-soap series, after all! The good news is that librarian Grace Sherman gets answers to her husband of thirty-five years, Dan's, disappearance that had us wondering in 16 Lighthouse Road. Grace has her golden-retriever, sweet little "Buttercup" (isn't that a Gilbert and Sullivan song?), and interested Cliff Harding to help her through it all.
The skittish divorcée, Maryellen Sherman, an art gallery manager and Grace's oldest daughter, has a love interest in Joe Bowman, a chef by vocation and photographer by avocation.
Judge Olivia Lockhart and newspaper reporter, Jack Griffin, are discovering their feelings for one another and their relationship. Both are worrying about not being with each other enough; however, they both have so much on their crowded plates. And they are about to get even more crowded when Jack's previously estranged son, Eric, stops by…for how long? And Olivia's ex, Stan?
Zack and Rosie Cox, accountant and stay-at-home-mom respectively; married 17 years, they are stumbling toward a split. Their arguments and disagreements are doozies, as both parties have valid points. Ms. Macomber does a wonderful job of conveying how an argument can spiral out of control. I had to wonder if DM is going to be a bit cliché here and lead us down the "neglected man" path - comforted by the ever efficient office assistant. I do like the author's comment on the fact that once couples become financially secure, they can drift apart – pulled by varying interest and demands - and lose that sense of being partners against the world.
There is plenty of life going on in this little town: babies, secrets, arguments and romance. Some of it will have to be resolved in 311 Pelican Court|6515753]. I'm ready for a listen!